Vishwaguru Mahamandaleshwar Paramhans Sri Swami Maheshwaranandji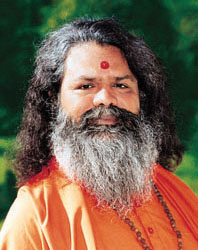 His Holiness Vishwaguru Mahamandaleshwar Paramhans Sri Swami Maheshwarananda Puri of Panchayati Maha Nirvani Akhara, affectionately known as Swamiji, is the disciple and successor of Hindu Dharmsamrat Paramhans Sri Swami Madhavananda (Holy Guruji), the author of Lila Amrit.
Vishwaguruji lived with Holy Guruji from childhood. He attained self-realization at an early age, and then ventured to spread the wisdom and light of his spiritual lineage throughout the world. Since 1970 he lives and works in Europe. Through his longlasting activities in the West Vishwaguruji became familiar with the way of life and the many problems people face in modern world, with psycho-somatic consequences of a wrong way of life, stress, fear for life and mental illness. He developed a comprehensive master system called "Yoga in Daily Life", based on original yoga tradition and specially directed to the situation and needs of modern civilization. The system can be lived and practiced independently of age, social status, nationality and denomination.
The main points of Vishwaguruji's teachings are:
physical, mental, social and spiritual health
respect for life
tolerance for all religions, cultures and nationalities
global peace
protection of human rights and values
protection of environment and preservation of nature.
The realization of these fundamental principles of life shall lead man to spiritual development, Self-Realization and Realization of God.
Vishwaguruji's indefatigable efforts to alleviate the suffering of humans and other living creatures has been commended and recognized by many world leaders and governments. To name just a few, at the Maha Kumbha Mela in Haridwar in 1998, he was inaugurated as Mahamandaleshwar of the Panchayati Maha Nirvani Akhara. He was consecrated with the title Vishwaguruji, Spiritual Master of the Universe by the Kashi Vidvat Samaj in the presence of His Holiness Sri Shankaracharya during the Maha Kumbh Mela in Prayagraj (Allahabad) in 2001. In 2002, he received the Danica Order, the highest decoration for humanitarian service, by the President of the Republic of Croatia, Stjepan Mesic. More recently, he received an Ambassador for Peace Award.
Read more about H.H. Vishwaguru Mahamandaleshwar Paramhans Sri Swami Maheshwarananda from www.yogaindailylife.org
Read the Chapter about H.H. Vishwaguruji from Lila Amrit
Watch Swamiji.tv - Yoga TV of H.H. Paramhans Swami Maheshwarananda