Paramhans Yogiraj Swami Maheshwarananda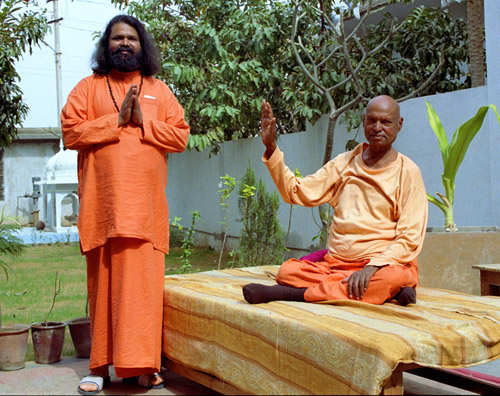 The biography of my beloved Master Mahaprabhuji has been translated into English and German by Yogiraj Paramhans Swami Maheshwarananda, the son of my elder sister. He is my closest disciple who carries the message of Mahaprabhuji throughout the world.
The course of Swami Maheshwarananda's life is also one of Mahaprabhuji's miracles, as the grace of Gurudeva has taken Swami Maheshwarananda from a small village in Rajasthan almost untouched by the modern world, into the metropolis of Vienna, Austria. Here he has an ashram and lives for part of the year there. Swamiji, as he is widely known, is revered by thousands of disciples throughout the world as their spiritual Master.
The story of Swami Maheshwarananda's birth is meaning­ful and I will tell it here.
In the early 1940s, I was staying with Mahaprabhuji at Mount Abu and one day while resting in the shade of an ashoka tree, I was mulling over some worrying thoughts about the future. Mahaprabhuji was nearby and glanced my way.
"Madhavananda, why do you worry? Your wishes will be fulfilled."
His voice spoke to my heart and put my mind at ease. I then expressed my wish to him in a prayer.
"Lord of the Universe, please hear my request! My dearest wish is that in your Divine mercy, Divine grace and universal Light, may the whole world be enlightened. May your message reach all humans so that mankind, which is afflicted by much misery and sorrow, may find everlasting peace and happiness. I wish a great soul to incarnate once more to show the way of Truth, for those who aimlessly wander in the darkness of their own ignorance. I pray that this soul give to them, through Yoga and Vedanta, the realization of atma and paramatma - the means by which they can attain Liberation. This is my humble prayer to Thee."
Mahaprabhuji laid his hand in blessing on my head and said, "It will be so."
He then told me that many years ago Sri Devpuriji had already made a Divine prophecy on just this subject. "Long ago, Sri Devpuriji made this promise to the British Governor at Nakki Lake: One of the seven rishis from satya loka will soon incarnate on earth and during childhood his name will be Mangilal. Due to the pledge made by God Maheshwara[1], Sri Devpuriji Maharaj, this child will be under his special protection and later will rise to fame as Swami Maheshwarananda. The great task will be made known to this great yogi and sannyasi, brave hero and knower of Truth, and through him your wish will come true."
Some years later, Mahaprabhuji's promise became reality and Paramhans Yogiraj Swami Maheshwarananda entered this world. He was born in the village of Rupawas, in the district of Pali, Rajasthan. His parents, Pandit Krishna Ramji Garg and Srimati Phool Devi Garg, were both devout and religious people. They gave him the name of Mangilal.
The time of his birth coincided with a unique astrological constellation, characterised by a conjunction of the lion and the moon. Astrologers forecast that under the influence of such heavenly forces, he would grow up to be a well-known and highly respected yogi and sannyasi.
In his childhood it was already apparent that his abilities were very special. He surpassed his two brothers and three sisters in skills and diligence and his religious inclinations came to light at a very early age. Most of his free time he devoted to prayer and meditation.
Mangilal's father died when he was just twelve years old and the responsibility for the family fell upon his mother's shoulders. Some time later he was sent to me in Nipal to continue his education and so it was that I took my nephew into the Nipal Ashram to care for him, just as I had been sheltered by my sister during my childhood.
Mangilal was of religious nature and possessed great knowledge. His devotion and love of God began to unfold more and more. Soon he was no longer interested in attending school and instead increasingly urged me to make him a sannyasi. I recalled Mahaprabhuji's words at Mount Abu but was unable to act without the consent of my sister, who had sent Mangilal to me only for the purpose of completing his education.
It was for this reason that I at first tried to dissuade Mangilal from the idea of becoming a sannyasi and instead had him undertake an apprenticeship as a car mechanic in Jaipur. Mangilalji however, barely raised any interest in this profession and as soon as the apprenticeship was completed he directly returned to the ashram.
I then established a small store in Ahmedabad called Sri Deep Narayan General Store and delegated its management to Mangilalji. Soon this enterprise was also a failure due to his lack of enthusiasm for business. Next, with the help of my disciple Sri G.L. Mathur, I procured a position for him in the plaster mine at Barmer.
During this time Mangilalji wrote me many letters in which he said that the staff and director of the mine were very good to him but he still felt he was in the wrong place and that all his feelings and thoughts only dwelt on the ashram. Again and again he wrote to me that his work held no interest for him and he beseeched me to ordain him as a swami.
As I was unable to explain to him the reason for my actions I didn't reply to his letters. Time had to ripen. However, finally Mangilalji wrote me a letter I could no longer ignore and from this letter I knew that the time had come. Mangilalji had achieved complete vairagya[2] and was now ripe for spiritual life.
The urge to renounce the world has driven thousands of people into misery because they lacked the guidance of a real Guru. From town to town they wander. From one place of worship to another. From teacher to teacher, performing ascetic practices, reciting mantras and practising tantra in the effort to attain supernatural powers. More often than not they only bring harm to themselves and others (as can be seen from the many examples in this book).
Ultimately they stand with empty hands, never finding the basic truth, never realizing that the way to heal this suffering of mankind is through atma gyana — the knowledge of our true Self. This realization and inner peace can only be achieved through the blessing of Gurudeva.
In this era, realized souls are very rare. However, Mangilalji had recognized the meaning of the spiritual heritage of Mahaprabhuji and was now sure of his own determination to follow in the footsteps of this path.
I called Mangilalji to the ashram and asked him to consider well if he was ready to completely devote himself to knowledge of the Divine. I warned him to be prepared for all manner of difficulties and resistance which must be overcome, as the way of renunciation demands great sacrifices and it is only through a strong and unshakable will that the goal is reached. Insistently I revealed the difficulties on the Divine path, which requires conquest of all negative qualities and impulses.
Mangilalji took the sacred vow: "Lord, I will never diverge from my decision and so make this pledge in your presence, never to deviate from my spiritual path even if it should cost my life!"
When I saw this determination I gave my consent to ordain Mangilalji as swami. I gave him the name of Maheshwarananda and instructed him to perform strict anusthana[3], which consists of carrying out certain practices and meditation techniques for more than twenty hours every day. He slept on a straw mat and ate only fruit and milk.
The following incident determined the course of Swami Maheshwarananda's future life and here I shall let him tell about it in his own words.
"At dawn on the day of Diwali (the Celebration of Light), after six months of fasting and meditation, I suddenly had the sensation of a strong stream of energy taking hold of my whole body. I saw a light as bright as a million suns and felt indescribable joy, as if I had been submerged in an ocean of nectar. Out of this radiant light appeared Bhagwan Sri Deep Narayan Mahaprabhuji, surrounded by numerous gods and goddesses, rishis and munis, who praised him with the holy mantra,
Om Satya Brahma Sri Deep Narayan Pari Puran Namaha
OM True Brahman, Sri Deep Narayan, Highest Self, I worship you!
"I saw the whole Universe illuminated in the Light of Maha­prabhuji and realized that all exists in him and through him. Then Mahaprabhuji laid his hand upon my head in blessing and spoke the following words:
"'My son, you are mine for all eternity. You are my true ambassador. All religions of the world lead to the One Light. It is the aim of every human to realize God the Almighty and thus become one with Him. But mankind suffers from unspeakable physical and mental sorrow. It is your duty to soothe this pain by bringing to them the holy message of Divine knowledge. Teach all people — men, women, young and old, rich and poor — the highest techniques of the Divine science of Yoga. Help them to lead a natural life free from illness and show them the way to true knowledge. Your task is to serve your fellow-beings without distinction of status or race, because all are a part of me. I will always accompany you.
Wherever you are, I will be also. In the hearts of my devotees you will see me. My sacred temple shall be the body of that one in whose heart I manifest. This human is me and I am him'."
From this Divine commission, Paramhans Swami Maheshwar­ananda began to preach the Divine message. In 1972 he went to Europe to spread the teachings of Mahaprabhuji there. The Austrian-Indian Yoga Vedanta Society was founded and the International Sri Deep Madhavananda Ashram was established in the City of Vienna.
Many other countries have also received the Light of Bhagwan Sri Deep Narayan Mahaprabhuji. Yoga centres and ashrams have been established as Swami Maheshwarananda spread the message to Germany, France, Greece, England, Czech Republic, Slovakia, Hungary, Slovenia, Croatia, Yugoslavia, Canada, the USA, Australia and New Zealand.
Thousands of disciples have been helped through yoga and this Divine knowledge. From his teachings, Swami Maheshwarananda has helped many people in the world to become vegetarian and thus bring an end to the killing of animals. For the protection of our environment he has called upon the people of the world to lead a natural way of life, to extend love to all living beings and observe the laws of nature.
Swami Maheshwarananda also brings to the Western countries an appreciation and understanding of Indian culture. Today in India and many other countries, Swami Maheshwarananda is regarded as an authority on Yoga and Vedanta.
In Swamiji's presence, miracles take place which reveal the all-pervading presence of Mahaprabhuji.
For example, on one visit to Leicester, England, accompanied by his disciple Stefan Gesti, Swami Maheshwarananda held satsang in a Hindu temple. Also staying in this temple was a guest by the name of Sri Yogeshwarananda Maharaj, considered to be an incarnation of Paramhans Ramakrishna. He was leading separate satsangs.
At the hour of prayer, Swami Maheshwarananda would light an oil lamp in his room before the picture of Mahaprabhuji and then after prayer he would go directly to the satsang hall. On one particular occasion he returned to his room after satsang and noticed not one, but two wicks burning in the oil lamp in front of Mahapra­bhuji's picture.
Swamiji asked himself how this was possible, for he had locked the door when he'd left the room and it was still that way when he had returned. There was no sign of a forced entry.
When this wonder continued for seven consecutive days, Swamiji discussed the phenomenon with Sri Yogeshwar­ananda Maharaj and requested him by the use of his clair­voyant powers to discover the source of the second wick of oil lamp.
The following day Sri Yogeshwarananda Maharaj told Swamiji that during the night he had experienced a vision of Saints from the invisible spiritual levels coming to the room to light the second flame in the glory of Sri Mahaprabhuji.
"Mahaprabhuji is a Divine incarnation and for this reason many souls from all levels come here to worship him," he said.
Some days later, Sri Yogeshwarananda told Swamiji of a message he had received directly from Mahaprabhuji saying that Paramhans Swami Maheshwarananda should not be judged by his young age, because he was a devotee and direct disciple of Mahaprabhuji from countless former lives.
The system Swamiji has developed for the people of the present time, is called "YOGA IN DAILY LIFE". It rests upon the tradition of yoga that is thousands of years old. This system is subdivided into eight stages in which the practitioner proceeds in degrees from the most simple asanas and pranayam to more advanced practices and techniques.
In 1990, Paramhans Swami Maheshwarananda founded the International Sri Deep Madhavananda Ashram Fellowship. Its aim is to unite the ashrams and yoga societies of all countries that are in his protection, under an umbrella organisation and through that to strengthen the community spirit of all disciples. According to his wish, the disciples shall pass on the teachings of Mahaprabhuji through the scientific methods of "Yoga In Daily Life" in common work and effort in devotion, tolerance, love and respect for all living beings.
In all yoga centres founded under the guidance of Swamiji, asanas, pranayama, meditation and kriya-yoga are taught. In some centres, several classes are held daily which are attended by hundreds of disciples. As well there are satsangs, lectures and seminars.
Swamiji takes an active and personal interest in all his devotees. The light of his personality radiates the Divine message of Mahaprabhuji wherever he goes and in this way it is spread quite naturally.
In 1992, Paramhans Swami Maheshwarananda set about the creation of his greatest project yet: a large spiritual centre in India in which all aspirants and seekers shall find a home and place of fulfillment. The "OM Vishwa Deep Gurukul Swami Maheshwarananda Ashram, Research and Education Centre" of Jadan, in the district of Pali, Rajasthan, is currently under construction on an area of a hundred hectares.
The establishment will contain 108 bungalows and a large meditation hall, built in a huge form of the Sanskrit symbol, OM: . Also on the grounds will be several educational and humanitarian centres.
In this way, Paramhans Swami Maheshwarananda con­tinues the holy tradition, carrying the message of Light into the world, thus faith­fully fulfilling the commission given to him by God through the Divine incarnation of Bhagwan Sri Deep Narayan Mahaprabhuji.
I have presented the lives of Mahaprabhuji and his disciples in this book as an invitation for all humans to work like them in the service of the Highest. They are proof that the Divine Light has not disappeared from this world and that it can be experienced and known by each one of us, if only we search for it in the right place and the right way.
---
[1]Maheshwara = "great God," a name of Lord Shiva
[2]vairagya = renunciation of worldly pleasure
[3]Anusthana are specialized techniques of spiritual practice.
Next Chapter: The Kumbha Mela in Haridwar 1998
Previous Chapter: The Appearance of Lord Shiva
Overview: Vishwaguru Mahamandaleshwar Paramhans Sri Swami Maheshwarananda